Our emergency electrical services are available 24/7 for your peace of mind and safety.
Here at Buckingham Electric Inc., we often get asked what electrical situations call for our emergency electrical services. The answer depends on many different factors and can vary from person to person. For example, while one family is comfortable "roughing it" with flashlights overnight, another might find that idea terrifying. Another consideration is what you need power for. If you have a medical device that needs electricity, getting the power back on is critical. In addition, some electrical issues can be a safety concern, such as if you smell something odd that indicates the potential for an electrical fire.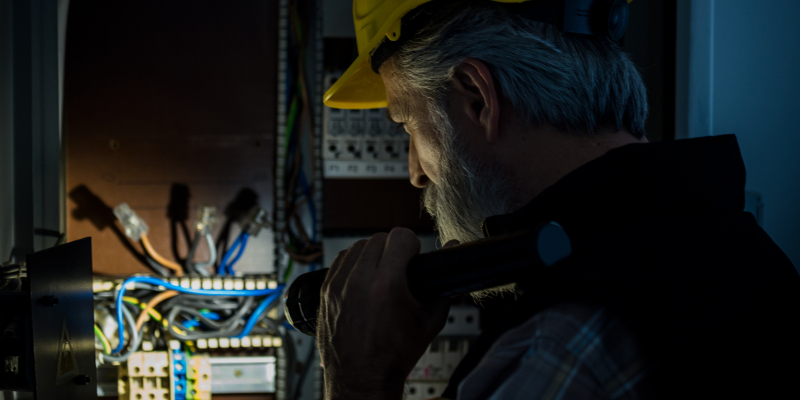 When you call us for emergency electrical services, we recognize that you have already determined you have a reason not to wait until normal business hours. We will discuss what you have going on to gauge how quickly we need to respond and to give you important advice about safety protocols you should employ in the meantime. We might recommend you shut off the power using the main control in the circuit breaker box, and we might also recommend you vacate the property if it sounds like there could be a fire or electrocution hazard.
Our emergency electrical services are handled by licensed and certified electricians who have the expertise to quickly diagnose and resolve electrical emergencies. We do not use subcontractors who might not uphold our high standards for professionalism and quality. You can count on us to do the job right the first time on everything from troubleshooting calls to major electrical work.
Thoroughly satisfied and highly recommend.
"I would like to congratulate Buckingham Electric Inc. on being a superior electrical service. They arrived immediately and were professional, efficient, knowledgeable... and they happened to send two of the best looking electricians in Asheville. Thoroughly satisfied and highly recommend. Don't look elsewhere. Go Buckingham Electric Inc.!!!!"
★★★★★ Mary A.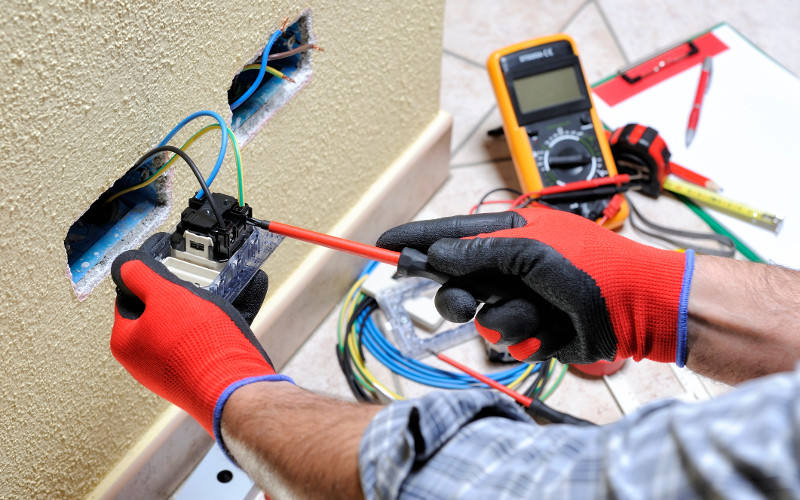 RESIDENTIAL ELECTRICAL SERVICES
We cover all the electrical installation and repair needs for your home.
SOLAR ENERGY
Lower your power bill by investing in solar today!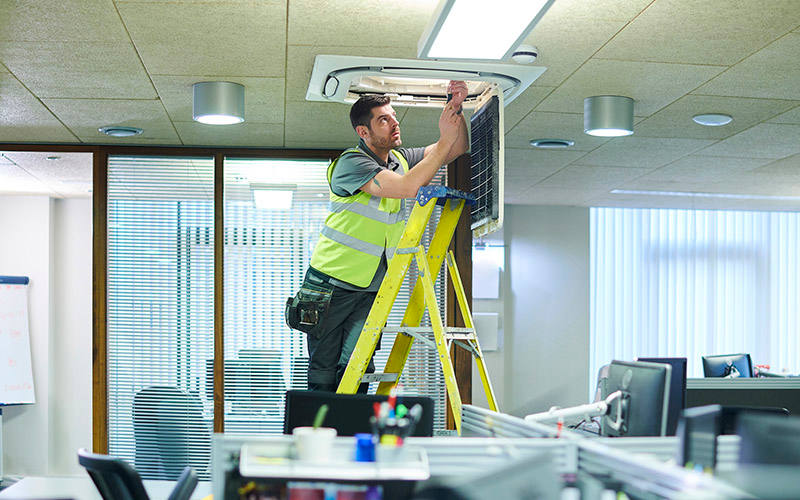 COMMERCIAL ELECTRICAL INSTALLATION
Trust your company's electrical work to our licensed team of professionals.
Our Experienced Electricians Can Handle All of Your Electrical Needs
If you have any questions about our emergency electrical services offered 24/7 in the Asheville, North Carolina area, don't hesitate to contact us.
---
At Buckingham Electric Inc., we offer emergency electrical services in Asheville, Hendersonville, Arden, Marshall, Candler, Barnardsville, Fletcher, Marshville, Fairview, Lake Lure, Clyde, and Waynesville, North Carolina.
Why choose Buckingham Electric Inc.?
Nearly everyone goes into business with a few ideas about what they want to accomplish and how to meet those objectives. We are no different here at Buckingham Electric Inc. The difference is that we work diligently to follow through on our commitments to professional, superior electrical services, and we believe you will see that we consistently perform as we set out to.
Check out what some of our customers have said about our electrical services.
This is the 3rd time I've used Buckingham at one of our rental properties and they've been excellent each time. For this most recent issue, Britt and Josh communicated about when they were coming and were quickly able to determine the issue and help us to get power going. I will absolutely call Buckingham again!

Nanci Mackey
19:57 10 Jan 21
They were professionals that knew there job.They were on time.

Randall Mason
01:59 09 Jan 21
From office staff (Kayla & Autumn) to estimate appointment (Jonathan) to installation (Jason, Michael, & Austin), we were impressed with total professionalism, quality workmanship, outstanding attention to detail, and most importantly fabulous customer service & satisfaction including cleaning the work areas. GREAT TEAMWORK EVERYONE!!!

Carolyn Galland
00:12 19 Nov 20
Jason and his team were very professional. They were more interested in the job getting done correctly than in billing me. I had a whole home generator installed and this group was very professional and prompt. My delay was in getting the plumbing/ gas line situation corrected before the generator could be tested. This group did not bill me for all of their invested time until they confirmed that the generator was operational. I would definitely use their services again.

We called with an urgent need and they took care of us same day! Jason was amazing,,, will keep this number in my contact list!!!

Denise Lingenfelter
19:30 30 Jul 20
A tree fell and knocked out our electrical service and meter. I called a few electricians and most weren't actually willing to come out right away, and the contractor from the insurance company said repairs could be a few days. Buckingham had me text them photos of the damages and picked up all the equipment and were working at my house in an hour. They did a fantastic job and finished in time for the power company to restore our power by evening! Totally awesome!

Our thanks to John and LJ at Buckingham Electric. We have just moved to the area and found Buckingham on google when our dryer and stove stopped working. We thought it may be an electrical problem. They were prompt (same day as called), professional and highly competent. They immediately traced the problem to a very old and bad circuit breaker which they replaced at a reasonable cost. They were honest about not needing to replace the entire box and their integrity and competence are very much appreciated. Thank you so much!

Jason was on time and clearly knew what he was doing. He was thoroughly professional and patiently traced the outage issue, found it, and confirmed that everything was working afterwards. I would highly recommend Buckingham Electric, and especially Jason.

Jeff Levine
21:56 09 Jul 20
I called on Monday and scheduled a service call with Autumn. She was quick to place my request the following business day. Jason (electrician) arrived on time and was able to address the situation quickly. He is very knowledgeable and doesn't waste his time getting the job done. Both he and Autumn were very pleasant to do business with. I highly recommend Buckingham Electric if you want your job done correct, efficient and affordable.

I have worked with this company on two occasions, once for a remodel and recently for an emergency repair. Quality people, quality service, quality company. Very responsive. Highly recommend and will definitely use again!

Erich Talley
22:16 22 Jun 20
I've used Buckingham a few times now, they always do a great job.I just used them again so I'm updating my review. Another fantastic job, I've used them several times and have never had an issue.

David Robb
15:22 13 Jun 20
I had a solar system installed by another company (BRIO) my single phase inverter went out about a year ago and I have had issues getting the install company to solve this. I had enough waiting for someone to due their job and with what I spent to install I have had enough. So I called Buckingham Electric Inc. just planing on having them replace my Inverter but they went the distance. They contacted SolarEdge and got a RMA for me to replace the inverter. 5-7 business days for replacement. I am very happy.

alex ransom
17:43 13 May 20
A tree fell, taking down some major electrical lines and yanking out our house"s electrical meter. Buckingham Electric (Jason and John) got here quickly, repaired the damage and had us up and running in a very short time. Billing was quite reasonable , workmanship exceptionally good.

Paul Kadull
17:32 13 May 20
Newly purchased home had an electrical issue. After comparing reviews, we calledBuckingham Electric. Within 10 minutes of our conversation they were able to have two technicians at our home within 30 minutes. They were professional, knowledgeable, and thorough. Truly appreciate Buckingham Electric and will undoubtably ask for their help in future repairs/projects as needed.

Patrick King
11:14 09 May 20
I would like to congratulate Buckingham on being a superior electric service. They arrived immediately, and were professional, efficient, knowledgeable... and they happened to send two of the best looking electricians in Asheville. Thoroughly satisfied and highly recommend..Don't look elsewhere Go Buckingham!!!!

mary allen
12:02 05 May 20
We just had a whole house remodel/renovation and of all the crews in all the trades, these guys were the best. Britt and Josh were proficient, efficient, punctual, professional and good people. They were great with our two dogs as well. We cannot recommend them enough!

Lisa Fields
04:50 29 Feb 20
Great service, great attitude, eager to please. go the extra mile

john robbins
17:10 10 Jan 20
Quick, friendly, and very knowledgeable! Would highly recommend!

Emily Cochran
13:42 28 Dec 19
I so appreciate the work done by Jason and team. We had a challenging request which they were able to accommodate with professional service and a great end result. I also appreciated the ability to schedule an appointment in time for anticipated kitchen work. I would highly recommend Buckingham Electric.

Carla Fennelly
13:57 13 Dec 19
Everyone was very professional and I would highly recommend to anyone they got my job done ahead of schedule and below estimate

Joe Travaglini
17:49 08 Dec 19
Friends had recommended Buckingham to us. We were very appreciative of Jason and Dave's quick response, professionalism, and knowledge. They tracked down our electrical problem efficiently, and solved the situation--all in a reasonable time and price. We are very satisfied and will be happy to recommend Buckingham Electric with more than 5 stars.

Leo Launier
18:55 06 Dec 19
Every part of our experience with Buckingham Electric was excellent. From our first interaction with the office to the detailed work completed. The team scheduled our estimate quickly, and Derek showed up exactly on time. He listened to our needs, and was very friendly and considerate, and had great suggestions to add value. He provided the quote before he left, and gave an estimate on lead time to start the project at our convenience. We felt the estimate to be reasonable for the work involved. We had the same experience with Jason who arrived exactly on time for the multiple projects on the plan. He had an apprentice with him and we appreciated how Jason and Dave worked collaboratively. This team was excellent in communicating with us to ensure each element of the project was to our expectation, before, during and after. They cared about the work environment, being very careful to put down drop cloths, and use painters tape for marking. Jason completed 100% of the work within the estimated amount of time - and was clearly focused on details. The cost of the project was exactly as the estimate had indicated - as such we were pleased. We would HIGHLY recommend the team from Buckingham Electric for your next home improvement project. Howie and Elizabeth

Howard Granat
14:50 28 Nov 19
Buckingham Electric just redid my electrical panel, put in a surge protector, and set me up to run my house on a portable generator, in case of power outages. They are so nice, and did a lot of work for a reasonable price. I will use them again!

Alison Chester
13:56 22 Nov 19
I Bought a cottage in Black Mountain unfortunately it didn't have a laundry. I called Buckingham they arrived on time quoted the job and were very professional and reasonable and did a great job.

Mark Myers
14:04 16 Nov 19
The guys were great. Super nice and professional. Work was excellent and reasonable priced. Will definitely use Buckingham Electric again and refer to friends and family.

Kate Spain
20:55 13 Oct 19
Cannot say enough positive things about Buckingham electric. They are prompt, professional, competitively priced, and easy to communicate with. We've used them for two jobs and have been very pleased with the final product and every other aspect of the experience. I doubt we'll ever need another electrician.

Matthew Moody
16:13 03 Oct 19
Showed up on time.Installed a fan and several light fixtures quickly,and disposed of all the boxes and garbage that came with it for me.Personable and efficient.Will call again.

Rosemary Redmond
14:47 06 Sep 19
Absolutely the best electrician service ever! Very professional, very knowledgeable, very friendly and very efficient. They are always on time, they work quickly, and they really really clean up when finished. No need to ever call anyone else.

Terrence Macaleer
18:57 05 Sep 19
They do a great job! Very professional

Buckingham Electric knows how to run a business! I have used them multiple times and now again for a home remodel. They are always on time, professional, quick to schedule and answer my questions. They have been so accommodating and helpful. Honestly I'm grateful to know a company I can rely on and trust. More local businesses should model from them! No hassle and no worries. Thanks Buckingham!

Karen Potter
16:03 29 Aug 19
Excellent service from the first phone call to the end of our service call. Professional, courteous and excellent service.

Cindy Kashdin
21:10 23 Aug 19
TOP NOTCH SERVICE!!! Fast, professional and cost effective!! It simply just does not get any better than this.

We used Buckingham Electric to do the electrical for a basement apartment we were renovating. They were incredibly professional, on time, communicative, personable, and even funny! It was also a very reasonable price, and they were very up front about the costs and potential issues. Additionally, they did a great job not messing with the sheetrock that had already been installed, and that was super appreciated. Very creative and effective in their installation. Additionally, we realized near the end of the renovation that we needed another outlet put in, and they were able to come back within 1 day and install it in under an hour at a very reasonable price. Highly recommend them to everyone! Appreciate them so much for their awesome work!

Hannah Limov
15:12 20 Aug 19
We use Buckingham electric for our electrical needs and the guys have always been very professional. They are always on time and do a great job. One of the things i like most is when i have a job that needs to be done quickly they always seem to fit me in as soon as possible. Derrick always gives us the best price and we get the quote same day. Jason has done several jobs for us and always communicates the process and gives a follow up call to make sure we are satisfied. Great company i give them a well deserved 5 stars.

Kenilworth Inn
17:56 19 Aug 19
We have used Buckingham electric twice - to purchase and install our solar panels and to hook up a subpanel to run a pottery kiln in our garage. I found them to be professional, timely, responsible, friendly and all around excellent. Also they do a great job cleaning up after themselves which is always a bonus! Highly recommend!

Laurie Caffery
01:17 18 Aug 19
We had a great experience with Buckingham Electric. Jason and Josh were punctual, friendly, and professional. Our issue was handled and explained thoroughly. Pricing was straight-forward. Don't hesitate to give these guys a call!

Danny Moore
14:14 15 Aug 19
Very professional, quick, and proficient! I would highly recommend them!

Robin Johnson
21:57 14 Aug 19
The guys are always courteous, efficient and get the job done in a timely manner. Highly recommend them for both residential and commercial service.

I work in the home building industry in FL so I'm generally prepared to be irritated, but not here! I have a 2nd home here in Black Mountain, NC. I've called upon Buckingham Electric twice in the past few months. They've installed a dozen lights, fans and everything in between.Scheduling was a breeze and they've been on time. Jason & Josh are polite, professional and expedient. They also clean after they're done and take the things I don't want away. A huge perk for me personally.So I offer not only a personal but, a professional endorsement.Kevin SaxonKevin Saxon Interior Design, Inc.

Kevin Saxon
15:51 12 Aug 19
We had an amazing experience with Buckingham. Particularly with Jason. We did a major renovation to our home and Jason worked with our designer. He was timely, professional, did high quality work and was extremely responsive. I would HIGHLY recommend them!!

We needed help from a professional electrician to fix a number of problems in our home's complicated electrical system. We called Buckingham Electric and Derek Gladding responded. He was prompt, efficient, and amazingly well prepared, even for problems that popped up unexpectedly. They have earned our trust, and we now know who to call for any electrical problems.When a light fixture separated from an ancient ceiling fan in my 122-year-old office with boulders for walls, I wasn't sure what an electrician would find. Buckingham Electric sent Jason Ingram. He came when he said he would (even though he wasn't sure what he was getting into), got right to work, and fixed the problem. He even brought light bulbs! I put Buckingham Electric on the company speed-dial.

Dayna Feist
15:25 07 Aug 19
I have used Buckingham electric four times in the past 12 months and have found them exceptional. They have provided prompt service on some urgent and complex electrical problems and were efficient, tidy, courteous, and trustworthy. I had a problem with loss of power that the power company said was a personal problem and that I needed to call an electrician. Buckingham responded immediately determined that it was a Power Company issue and helped me resolve the issue with the Power Company with immediate restoration of power. A week later I had a piece of specialized machinery that would turn off repetitively after only a couple of minutes of operation and they were able to solve the problem when the manufacturer just wanted to replace the unit at a considerable cost to me. I am now using that equipment with minimal repair costs and no replaced parts. I highly recommend them. They will be my electricians of choice for any future electrical issues.

Roger Domby
02:52 07 Aug 19
We have used this company four times over the past year and have found them capable of tackling complex as well as simple electrical issues with ease. They have been prompt, efficient, neat, honest, and trustworthy! I highly recommend them and plan to use them as my electricians.

Linda Domby
01:45 07 Aug 19
We used Buckingham Electric on two occasions recently and found the electricians to be very professional, thorough, competent, and polite. They also went out of their way to answer our many electrical questions related to the 2 year old house that we have just moved into. We would use them again without hesitation and are relieved to know that we have found the electricians we will need going forward. Thank you.

Robert Steinglass
23:05 05 Aug 19
We had alot of different electrical jobs done today. The electricians who came were polite, kind to our dogs and very professional. Highly recommend.

May Castelloe
21:47 22 Jul 19
We know we'll get good service from Buckingham Electric. They wired our house when we built it 2 1/2 years ago and we've had no problems! On a recent visit to add a soffit plug and light switch, Jason and Josh arrived when we expected them, did a great job quickly and vacuumed up every bit of dust. They're a little bit expensive but worth it.We'll call them again.

Robin Stiles
23:57 17 Jul 19
They are efficient, knowledgeable, pleasant, and tidy.

Cathie Campbell
11:14 13 Jul 19
Jason Israel and his partner Josh come to our home following a lightning strike directly on the house. A fan had been knocked down, outlets disabled and various appliances damaged. They arrived on time. They explained the likely cost and performed the work efficiently and effectively. They had suggested surge protection to which we agreed but later Jason told me that we already had it and it was functioning well.Honest, competent and reliable are the words I would use to describe our experience with Jason and Josh from Buckingham Electric.Bob HunterHendersonville, NC

Bob Hunter
19:11 10 Jul 19
Similar Services We Offer: